Saronic Ferries Events: Gadjo Dilo live on board ferry ANTIGONE
The most summerish concert of the year (01.08.2023)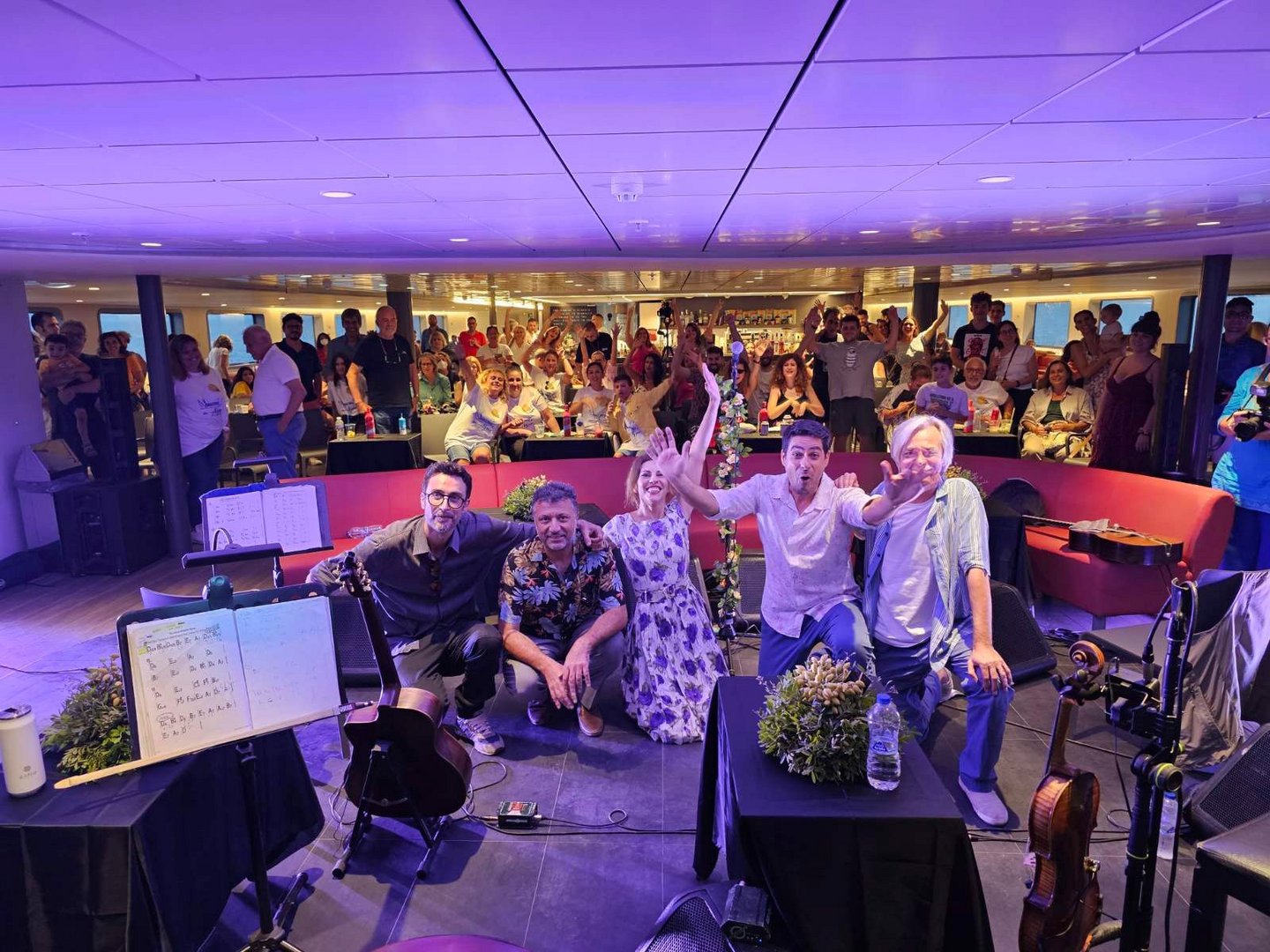 "Ladies and gentlemen, the captain and crew of 'Antigone' welcome you aboard. Our destination is the port of Aegina where we will approach via Manouche with an intermediate stop at the Greek '60s. At the helm, especially for this trip, the experienced musical seafarers Gadjo Dilo who will chart their own melodic course. The sea is predicted to be slightly wavy in swing rhythms, with the winds blowing in a strong Jazz direction, with Balkan and Romani ups and downs, while minimal bebop gusts are expected. If for any reason you feel the need to get up and start dancing, please use the special life jackets located under your seat. A warm request, to transfer the corresponding mood to your fellow travelers: do not stay seated during the entire cruise, it would be a shame. Have a good trip."
On the afternoon of August 1st, at the port of Piraeus, we would find three types of passengers. The few unsuspecting travelers who didn't know what was going to happen as soon as they boarded Antigone bound for Aegina, 'those in the know' who booked a special ticket for this route and the fanatics who left Aegina early and boarded on the spot on Antigone, as soon as they stepped their feet at the port of Piraeus. The reason? one, unique and melodious. The rare opportunity to witness a magical boat gig on the waves accompanied by the delightful Gadjo Dilo, these worthy brainchild of Django Reinhardt who have created a chapter of their own in Greek music history and continue to evolve with each new live, in every cover they attempt, in every new composition they create. There's nothing that hasn't been said about "these crazy guys". For their name which means exactly that in Romani, for the ring they have received from the master of the genre, the genius of Jazz, Django Reinhardt in a ritual with Roma guitars, flowers and burning fires, for their criminal music genre cleverly titled 'Manouche De Grec'.
Today, where reinvented retro is hailed as the new music trend and open-minded kids are insatiably chasing quality bands that tap into yesterday to play tomorrow's music instead of polluting their ears with bouzouki traps and complex "art", Gadjo, this beautiful smiling company is here to stay. All of them musicians, noble, presentable, not at all ridden (whereas they could have turned up their noses and you would have to wait to talk to them), boarded the "Antigone Palace" and gave their souls to the dozens of lucky ones who were that afternoon in the ship's lounge, simultaneously launching the 14th Aegina Fistiki Fest.
And somewhere there, just before the boat turned from the Bouza Lighthouse, we would have sworn that we saw Django and Manolis Chiotis in the bar, smiling wickedly behind their mustaches and being proud to see these worthy successors of theirs, they take their art and take it outside, in the sea air to make it even fresher and cooler.
Text: Anestis Kornezos
Organisation: 14th Aegina Fistiki Fest
Sponsor: Saronic Ferries